Benefits of Online Learning
Learning is a lifelong endeavor and educational technologies have enabled corporate and educational organizations the ability to offer online learning as a cost effective solution to develop skills, transfer knowledge, and inspire motivation at every level of an organization. Online learning and training solutions are important for several reasons:
Accessibility
Online training solutions make learning accessible to a wide audience, regardless of geographical location or time constraints. People can access training materials from anywhere with an internet connection, allowing for flexible learning opportunities. We can ensure your learning materials are designed and developed to be accessible to people with disabilities, such as visual or hearing impairments, motor limitations, or cognitive challenges.
Cost-effectiveness
Online learning often eliminates the need for physical classrooms, travel expenses, and printed materials. This makes them more cost-effective compared to traditional training methods, especially for organizations with remote employees or a large workforce. Let's get creative!
Continuous learning
Learners can revisit the content whenever needed. This promotes ongoing professional development and helps individuals stay updated with industry trends and best practices.
Global reach
Online training solutions break down geographical barriers and allow organizations to train employees or customers globally. This is particularly beneficial for multinational companies, remote teams, or businesses with a global customer base.
How We Can Help
Choose our ready-to-use online training programs for instant deployment, or let us build a customized training platform tailored to your specific needs.
REMOTE WORKFORCE TRAINING
As the trend of working remotely continues to expand, organizations are discovering challenges in standardizing expectations for professionalism. 
We partnered with educational experts to develop a comprehensive online certification program to equip remote workers to Go remote and work on!
FULLY MANAGED ONLINE LEARNING
Customizable Training Platform
Are you an organization, university, or institution looking to take your training and education programs to new heights? Look no further than our practical solution that combines a customized website with an integrated Learning Management System (LMS) to revolutionize online learning experiences.
Introducing Uni Learn by YellowHammer IT, LLC
Your Solution for Seamless Website Functionality and Online Training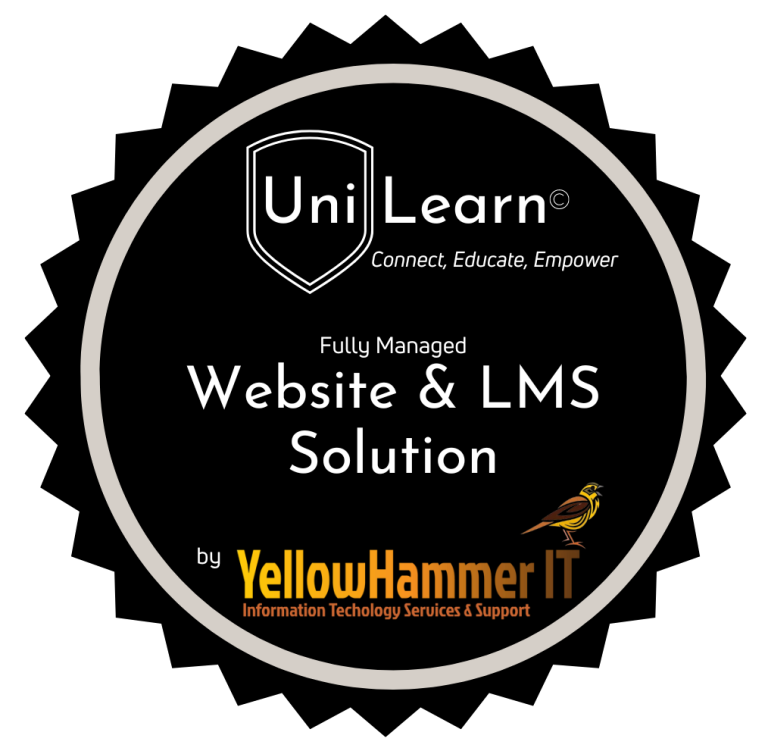 Let Us Support Your Training Needs
Are you ready to transform your training programs with our all-in-one solution? 
Say goodbye to the complexities of managing multiple systems, vendors, and applications and embrace the simplicity of our single pane of glass model. Take advantage of our customized website, integrated LMS, and secure payment gateway. Experience the convenience and power of our all-in-one fully-managed learning solution today.
Revolutionize your organization's training and education programs. Choose Uni Learn to unlock a world of seamless online learning experiences for your staff, customers, and learners.
Experience the power of a unified online training and website functionality with the Uni Learn single pane of glass model, developed by YellowHammer IT, LLC. With Uni Learn, you not only gain a powerful online training solution but also benefit from the expertise of a dedicated managed service provider.
We bring your vision for training and development into a scalable reality by offering managed learning services as a cost efficient way of delivering all your learning needs whether you are a school, business, church, civic group, or nonprofit organization. Through customizable online educational tools, we can help your organization create unique and relevant learning experiences with the level of support that is right for you.
We provide five core services to help organizations deliver necessary training materials and courses with their brand identity: Website development, Customized LMS Integration, Course Development, Payment Gateway, and Updates & Support, and more all under a single pane of glass.
Our Uni Learn solution empowers you to provide comprehensive and engaging online courses and training programs, effortlessly reaching your staff, customers, and learners worldwide. Our team of professionals is here to support you every step of the way, from website design and development to instructional design and course launch. Leave the technical complexities to us as we handle all aspects of hosting, ensuring seamless performance and reliability for your online platform.
Our skilled website developers will work closely with you to create a visually stunning and user-friendly website that aligns with your organization's unique brand identity.
Our instructional designers will collaborate with you to develop engaging and effective course content, leveraging best practices and pedagogical techniques to optimize learner engagement and knowledge retention.
With Uni Learn,  you can focus on what users will learn while we take care of the technical intricacies and apply instructional design expertise behind the scenes to develop exceptional training experiences. Enjoy simplified management, seamless integration, consistent user experiences, enhanced data insights, efficient support, scalability, and robust security.
Our Software as a Service (SaaS) Model: With our SaaS solution, the website and training platform is hosted and maintained by YellowHammerIT, LLC. Users can access the features and tools without the need for installation, maintenance, or hardware infrastructure on your end. This means your users can access your content with an internet connection. It also means we provide software updates, bug fixes, security patches, and infrastructure maintenance, relieving you of these tasks.
Branded Website & LMS: Uni Learn offers a tailored website design and LMS branding that aligns perfectly with your organization's branding and identity. Showcase your courses, highlight key features, and create an immersive online presence that captivates your learners from the moment they arrive.
Integrated Learning Management System: Uni Learn's advanced LMS seamlessly manages the entire learning journey, from enrollment to certification. Automate administrative tasks, track progress, and monitor performance with ease. Enjoy features such as progress tracking, interactive lessons, and manual or auto-grading, making learning management a breeze.
User-Friendly Interface: Our intuitive interface ensures both administrators and learners can navigate effortlessly through the platform. Engage enrolled users with interactive content and multimedia elements to enhance their learning experience or add free courses and demos to highlight your programs and recruit new learners.
Versatile Course Creation: Uni Learn enables you to create diverse and dynamic courses. Leverage a range of multimedia formats, such as videos, presentations, quizzes, and interactive assignments, to cater to different learning styles. Enhance engagement and knowledge retention through immersive learning experiences.
Simplified Management: With Uni Learn's single pane of glass model, you have a centralized platform to manage all aspects of your online training. This includes website hosting, LMS administration, and payment gateway integration. Eliminate the need to juggle multiple systems and interfaces, saving you time and effort.
Seamless Integration: Our system ensures seamless integration between the website, LMS, and payment gateway. This integration eliminates compatibility issues and data silos, providing a smooth and unified experience for both administrators and learners. You can effortlessly manage user registrations, track payments, and monitor course enrollments from a single interface.
Consistent User Experience: With a single pane of glass model, users benefit from a consistent and cohesive experience throughout their learning journey. The website, LMS, and payment gateway share a unified design and user interface, creating a seamless transition between different functionalities. The single sign-on and consistent domain name reduces confusion, and improves overall user satisfaction.
Enhanced Data Insights: By hosting your website, LMS, and payment gateway under one managed service provider, you gain a holistic view of your training operations. Consolidated data insights provide a comprehensive understanding of website traffic, learner engagement, course performance, and financial metrics. These insights enable data-driven decision-making, allowing you to optimize your training programs and drive better outcomes.
Efficient Support and Maintenance: With a single point of contact for hosting, development, and support, our managed service provider ensures prompt assistance and efficient issue resolution. You don't need to coordinate between multiple vendors or worry about compatibility issues. Our dedicated team handles all technical aspects, ensuring smooth operation, regular maintenance, and timely updates.
Customizable & Flexible: As your organization grows, Uni Learn's single pane of glass model scales effortlessly to accommodate your evolving training needs. Whether you need to add new courses, expand user capacities, or integrate additional functionalities, our managed service provider offers the flexibility to adapt and scale your online training platform accordingly.
Enhanced Security and Compliance: Security and compliance are paramount. Our team ensures robust data protection measures, including regular backups, encryption, and adherence to industry best practices. Hosting your website, LMS, and payment gateway under one provider minimizes security risks and simplifies compliance with data protection regulations.

All of your IT needs under a single pane of glass.
Transform your workforce with our online training solutions. Contact us now to explore our out-of-the-box training options or discuss your vision for a fully customized online training experience.